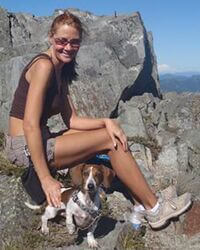 Tracy
Practice Manager
I have lived in Washougal all my life and my family has always gone to Orchard Hills Animal Hospital for their animal care. While I didn't have any veterinary training when I was hired for my position, I grew up on a farm and have loved and cared for a variety of animals my entire life. Orchard Hills was nice enough to give me on-the-job training and I plan on staying as long as they will have me—our clients are just like family. Currently, I have a couple of rescue cats named Paducha and Gideon, and a miniature Dachshund named Tanobi who is absolutely my favorite little man. When I'm not working, I love to go hiking, camping, and paddleboarding.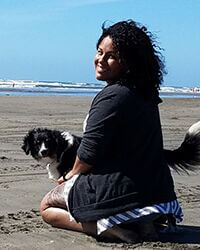 Stephanie
Receptionist
My name is Stephanie. I am a Receptionist at Orchard Hills Animal Hospital. I started work here in February of 2015 and I love it! I enjoy meeting new animals and constantly learning new things every day at work. I have two dogs, Mocha, she's a mutt whose head wags more than her tail when she's really excited, and Trigger, who is my tripod rescue. I have two cats, Severus and Cassia, who play fetch and chase their own tails. I'm originally from Virginia but just moved from Oregon a few months ago. Outside of work I enjoy spending time with my son and discovering new hikes for us in the area.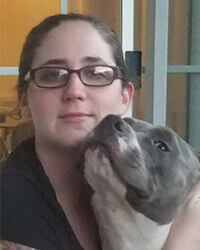 Brandi
Receptionist
I was raised in Yelm, WA, moved down here when I was 17 and never left. I have always loved animals and have two dogs. Brutus Lee is my newest pet he is a blue-nose Pitbull who loves a belly rub. I also have a 3-legged MinPin/Pug mix whose name is Tequila but my kids call her Mama because she doesn't leave their side. In my free time, I like to lay in bed and cuddle with my husband and dogs!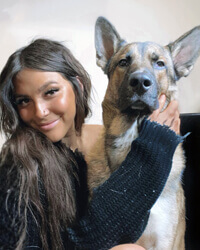 Savannah
Receptionist
Savannah was born in EsCondido, CA and raised in Vancouver, WA. She has a large blended family and growing up she was always surrounded by animals. Her dad started a farm when she was a child, and that's when she really became involved — her interests ranged from cats and dogs to pigs and beareded dragons. now, as an adult, Savannah has her own animals: Maverick, a german shepherd husky mix, Sunny, a cat, and Stark, a rabbit who she adopted from a coworker. She tries to devote as much as she can to animals and hopes to have her own rescue someday. During her free time, Savannah likes to visit the beach or the dog park.
Summer
Hospital Assistant
I grew up in a small town in Indiana. After meeting my husband, I attended college at BYU Idaho and was working on my animal science degree, debating on whether or not to go to tech school. I now intend to get my degree and license.
As a child, I raised stray kittens and rescued animals I'd find in the yard (birds, frogs, toads, etc.). I taught myself to bottle feed and raise abandoned kittens, and worked with neighbors to find them homes once they were old enough to leave their mothers. I now share my home with a three year old border collie named Ryan, who works as my emotional support animal, and Fuzzball, our 13 year old rescue Pomeranian.
During my free time, I like to spend time with my dogs either in the dog park, around the neighborhood, or on a day-long swimming trip. I also enjoy creating art of animals via paintings, sculptures, and traditional and digital media. On cold and rainy days, you can find me playing games online with friends and family. No matter how far away we may live, our time playing games helps to keep us close.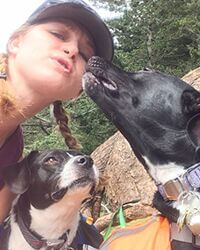 Rachael
Veterinary Technician
My name is Rachael. I have been with Orchard Hills Animal Hospital since August of 2012. My previous experience was with Susie's Country Inn for Dogs and Cats (a boarding facility), St. Francis 24-hour Animal Hospital and Banfield. I started as a receptionist with Banfield and within 4 months was trained to work in the treatment area as a veterinary assistant. I guess spending my lunch breaks in treatment observing and helping convinced the staff my desire was to assist! Here at OHAH, I enjoy working as a vet assistant helping the doctors and other staff in providing healthcare for our clients' furry children. When I first started working at OHAH, I didn't have any pets. Within a year I welcomed 2 dogs and 1 cat to my family! Netty and Brook are my doggies. Netty can always be found in bed under the covers or sleeping with my children. Outside of work I enjoy spending my days with my family and children, frequenting the local dog parks or going on bike rides.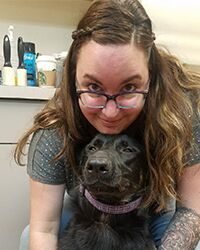 Darla
Veterinary Assistant
I grew up in Portland, OR and moved to the Vancouver area after graduating high school. At age 11, I decided I wanted to become a veterinarian, but then at 14, that changed to a marine biologist. While I love cats and dogs, I think my real calling is with the ocean and all the mysteries it has to offer. Since I haven't yet completed the school required for that, I am very pleased to be here at OHAH where I get to do hands-on treatments with small animals. In fact, I'm so happy here, I'm not sure if I'll ever end up pursuing marine biology! At home, I have three dogs: a Husky named Max who licks windows and chews on fingernails, a German Shepherd named Lilly who is the sweetest dog I've ever known, and Rocco, who I actually got to see born via C-section! Most of my free time is spent with my dogs, but I just got a kayak and hope to enjoy that out on the lake soon.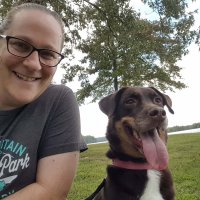 Kara
CVT
Kara grew up in Albuquerque, NM and moved to Nashville, TN in 2010. She missed having family close by and decided to move to Vancouver in May 2019 to be closer to her brother and his family. Orchard Hills Animal Hospital came highly recommended by multiple people, and she feels lucky to have found an amazing hospital to be a part of (her words, not ours!). Kara attended Central New Mexico Community College in Albuquerque and attained her associates degree in Veterinary Technology in 2007. Becoming a Licensed Veterinary Technician is one of the things in her life she is truly proud of. She has worked in an animal hospital since 2001 and says that working with animals is her passion. Kara shares her home with her dog, Willow, who she found in a bush back in 2012 when she was five weeks old and she's been by Kara's side ever since. Willow enjoys going on adventures with Kara here in the Pacific Northwest and is named after Willow, AK. because Kara was in Willow working with the Iditarod dogs around the time she was born. When Kara isn't helping animals at OHAH, she enjoys being outdoors: Hiking trails, kayaking lakes or camping up in the mountains. She and Willow both love being out in nature!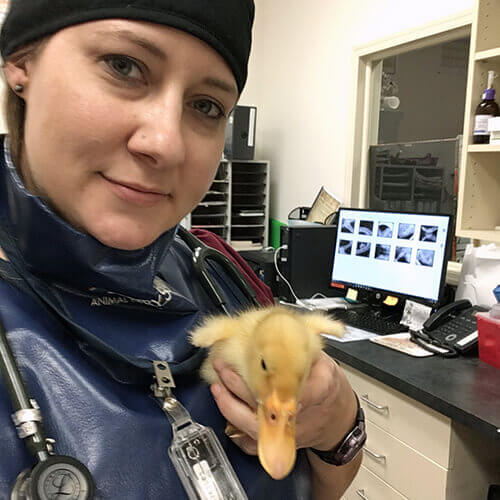 Rebekah
Veterinary Technician/Veterinary Technician Supervisor
Growing up in Washougal, Orchard Hills was my family's vet, and I came to work here because I enjoy the small-town feel we have. It gives me the chance to develop long-term relationships with our clients and my co-workers. You could definitely say that this hospital is my "home away from home"!
I've always loved animals, and as a child I knew I needed to work to help them in any way I could. I became a veterinary assistant in 2007, and it has given me the opportunity to improve the quality of life for many pets and their families.
At home I have a cat named Stinky, who came to me as a stray when a good Samaritan found her outside. She was emaciated and had a serious eye injury, and I slowly nursed her back to health. Unfortunately, we were unable to save her eye, and decided an eye enucleation was the best option for her. "Stinky Winky" is now a very happy, healthy couch potato.
When I'm not working, I love hanging out with my daughter and searching for new adventures here in the great Pacific Northwest! Bailey
Veterinary Assistant/Receptionist
Bailey was raised in Washougal, and growing up her family brought their pets to Orchard hills. She has always wanted to work with us, and now she does! At five years old, Bailey realized she had a passion for animals that she wanted to turn into a career. She now has four pets: Lucy, her cat, loves attention; Millie the Newfoundland loves to smell flowers; Milo the American Eskimo would run 24/7 if you let him, and Manny the Chihuahua mix can't help but have his tong out all the time! Bailey spends her free time with her pets, and also enjoys reading and gardening. Brittany
Veterinary Technician
Brittany grew up in Arizona. She conducted her externship at Orchard Hills and was invited to stay. Brittany attended Carrington College's VA program, having known at a very young age that she wanted to care for animals. They have always been part of her life, and her goal is to speak for as many as she can. Brittany recently lost her dog Honeybear, who was a happy 7-year-old Pekingese who left behind the gift of her puppy, Koda. He is a mix and as hyper as can be, but loves greeting Brittany with lots of kisses when she comes home. In her free time, Brittany enjoys the outdoors as much as possible. She is interested in photography, hiking, exploring and anything else that involves getting out of the house.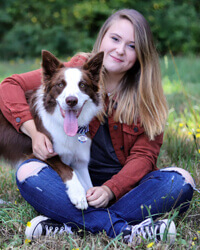 Christina
Veterinary Technician
Christina was born in Chico, CA and raised in Vancouver, WA. She attended Carrington College in Portland, OR and joined Orchard Hills shortly after graduating Carrington College. She first realized her love for animals when she began doing dog sports with her Border Collie, Tate. Tate is trained in agility and rally obedience, and also dabbles in disc sports. Christina also has a miniature Dachshund named Zaita and a kitten named Elsie. In her free time, Christina likes to train her dogs, hike, camp and explore the outdoors. Makenzi
Reception
Originally from Las Vegas, Makenzi knew she wanted to pursue veterinary work after adopting her two dogs, Nira and Honey.
Nira is a German Shepherd and the love of Makenzi's life. Honey is a Spaniel mix who enjoys sleeping and cuddling above all things.
In her free time, Makenzi likes to hike with her pups and hang out with her family. She's also a big book nerd.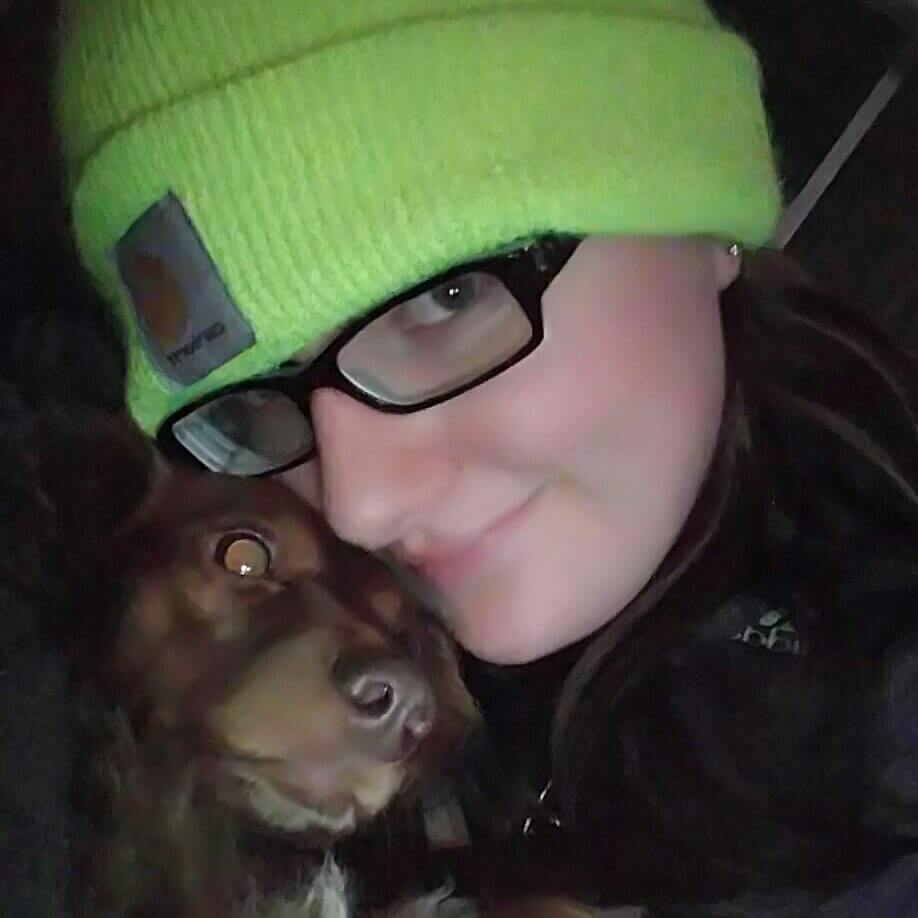 Samantha-Jo
Veterinary Assistant
I was born in Arizona and moved to Washington when I was nine years old. I've loved the Pacific Northwest ever since. I graduated with an Associate's Degree in Biology, and am currently attending Penn Foster College for their veterinary technician program. My love for animals started very young, as we referred to my childhood dog as my brother! When I am not cuddling with my current dog – a longhair dachshund named Princess Peaches- or at work, you can usually find me doing something creative like drawing, painting, or practicing my photography skills.