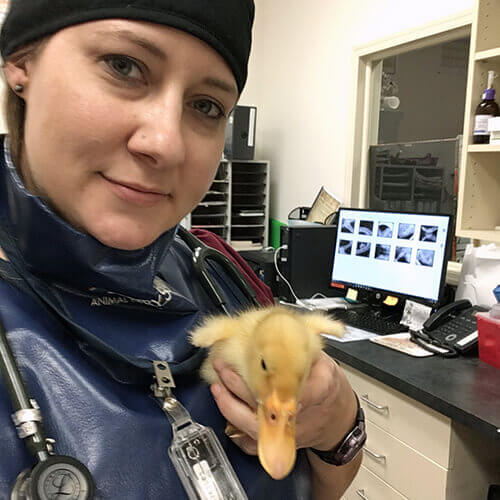 Rebekah
Veterinary Technician/Veterinary Technician Supervisor
Growing up in Washougal, Orchard Hills was my family's vet, and I came to work here because I enjoy the small-town feel we have. It gives me the chance to develop long-term relationships with our clients and my co-workers. You could definitely say that this hospital is my "home away from home"!
I've always loved animals, and as a child I knew I needed to work to help them in any way I could. I became a veterinary assistant in 2007, and it has given me the opportunity to improve the quality of life for many pets and their families.
At home I have a cat named Stinky, who came to me as a stray when a good Samaritan found her outside. She was emaciated and had a serious eye injury, and I slowly nursed her back to health. Unfortunately, we were unable to save her eye, and decided an eye enucleation was the best option for her. "Stinky Winky" is now a very happy, healthy couch potato.
When I'm not working, I love hanging out with my daughter and searching for new adventures here in the great Pacific Northwest!